Open Evening 2021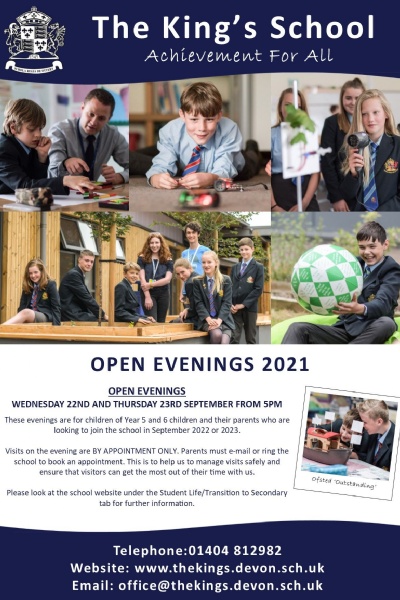 This year we will be holding two Open Evenings for parents of Year 5 and Year 6 students who wish to find out more about the school. These evenings will take place on:
Wednesday 22nd September 2021 from 5pm to 7.30pm
Thursday 23rd September 2021 from 5pm to 7.30pm
The evenings will run on an appointment basis only. If you wish to attend please contact the school in advance (office@thekings.devon.sch.uk or 01404 812982) to book a time slot on one of the evenings.
On the night you will need to arrive at the Coachpark entrance (near the hospital) at your appointed time. Students and staff will meet you and explain the format of the evening. You will have the opportunity to hear a short talk from the Headteacher before following a tour around the school site to visit different subject areas. Staff will be available to answer any questions that you may have.